Mario "Swing Daddy" Robau started dancing at the age of sixteen. He won the Southwest Regional title for the first time at the age of seventeen and began teaching professionally in 1986. Mario's competitive credentials include: 2 time U.S. Open Classic swing dance champion; U.S. Open Team champion and co-choreographer; 10 time Dallas Dance champion; 6 time Southwest Regional champion; 10 time Texas State champion; 10+ City Houston championships; undefeated slow whip champion; 4-time Grand National champion; 2 time Phoenix Jack and Jill champion; Dallas Dance Hall of Fame; youngest person inducted into Swing Dance Hall of Fame.
Stephanie McPherson-Robau is a 4 time UCWDC World Champion, with two of those titles in the Master's Division. In addition, she has helped her students win over 10 UCWDC World Championships in their respective Pro-Am Divisions. She is known for her incredible technique and precision, as well as presentation and has over 20 years experience in Country & Western, Ballroom, Latin, and Swing. Stephanie retired from competitive dancing due to injury which led her to her new career as a Doctor of Traditional Chinese Medicine and Acupuncture. Stephanie is originally from Calgary, but now resides in Houston with the best husband ever (so he says), Mario Robau
Bob & Beverly have hosted 28 events in their career, including the prestigious "Michigan Dance Classic."
They are two time recipients of the "Feather Award" for dancing, the equivalent of an "Oscar" for acting. They are past 1st Place winners of the "American Swing Dance Championships" and have placed in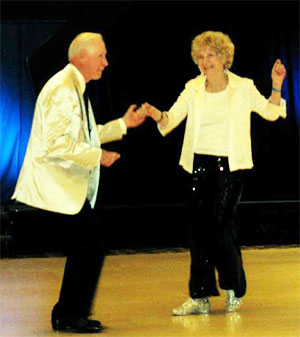 the top five of the U.S. Open Swing Dance Championships three times. Not to long ago, they were winners at the "World Swing, Salsa, and Hustle Championships" winning 1st Place in all three divisions.
Bob & Beverly have supported dancing in many different ways. For example they are sponsors of the "Masters Tour" and provide $300.00 at 12 designated events and $7600.00 split among the top 4 couples in the point standings at the U. S. Open.
Bob has instructed at the "Mid-Ohio Boogie Bash" the last couple of years with his student, Debbie White. She is an excellant dancer in her own right. According to Bob, Debbie has danced 11 times in the competition and place first 11 times. Bob and Debbie have competed together as well at major dance competitions.
They are delighted to be able to teach for "Mid-Ohio Boogie Bash" and they thank the Mid-Ohio Boogie Club for the opportunity to be an important part of our most fun event.
Don and Jennifer have been members of the dance community for several years. Don's passion to dance prompted him to learn all that he could as soon as he could.
His passion led to teaching others what he knew. Jennifer joined him after their marriage. They are well known in the Columbus area for their ability to impart their expertise to their students.