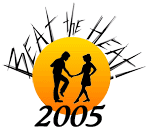 Click to select:
Event Resources

Clubs Represented

The DeeJays

The Flashbacks

The Instructors

---
Buckeye Candies

---
Home sites for:
Buckeye Bop Club
Mid-Ohio Boogie Club
---
To purchase items with
Beat The Heat Logo

Click on Here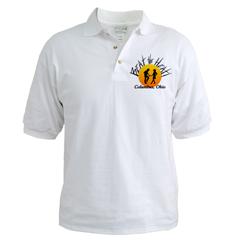 Buckeye Candies
---
About Buckeyes
The Buckeye – You may have had one these chocolate-lover's treat, but have you ever wondered where it got its name? This unique snack has a history just as rich as its flavor.
Candy buckeyes are named after the shiny, dark nuts of the Buckeye Tree – the official state tree for Ohio. The state's original settlers found it to be an unfamiliar tree in the forest, and adopted it as a symbol of Ohio heritage. These pioneers carved the soft buckeye wood into troughs, platters and even cradles. Today, buckeye trees are prominent in the Ohio River Valley, and are known for being resilient and hearty.
The nuts of the tree, which are actually mildly toxic, were given their name because of their resemblance to the eyes of white-tailed deer. Folk wisdom says that carrying a buckeye nut in your pocket brings good luck (but you might not want to try that with the candy variety).
So, the next time you bite into one of these treats at our "Beat the Heat" dance event, remember that you're discovering a tiny taste of Ohio.
---
Making Buckeyes
By-Marcia Adams, Heartland:
The Best of the Old and the New from Midwest Kitchens.

Gather the ingredients.



Cream 1 lb confectioner's sugar, 2 sticks softened butter, and 2/3 jar creamy peanut butter.

Put into fridge or freezer until hard.


Remove from fridge, roll into little balls.

Compare with sacred object.

Melt 12-16 oz semi-sweet chocolate and 1 tablespoon of wax on very low heat in double boiler. Use toothpick to dip peanut butter balls.

Can you spot the real buckeye?
---
Other Recipes
Everybody has a slight twist on how to make these great candies. Here are just a few.
---
Here is a recipe sent to us by Stephanie. She said "I saw your site and decided to share my recipe for buckeye candy with you... these are good... everyone loves them..."

Thank-you Stephanie, and please consider coming out and dancing with us sometime.
Ingredients
1 and 1/2 cups of honey margarine unsalted
3 teaspoons of vanilla
3 lbs. of powder sugar
1 cup chocolate graham cracker crumbs
10 pkgs.(2 per package) Resse's peanut butter candy
1 and 1/2 packages semi sweet chocolate chips
Directions
Centers
Melt peanut butter cups.
Add honey margarine, vanilla, powder sugar, chocolate crumbs mix.
Shape shape into small balls (teaspoon size or a bit bigger).
Refrigerate.
Dipping
Melt chocolate chips with an additional 1/4 cup honey margarine added
When smooth, use a toothpick to dip each ball about midway into the chocolate.
Store istore in airtight container and refrigerate or freeze.
Note...
The margarine gives these balls a pretty shinny coat.
---
Thanks to Carla Hall – she has tried this recipe and they are GREAT! And, this recipe that does not use the Paraffin wax in it.
Ingredients
4-1/2 cups of peanut butter
1-1/2 cups of margarine
3 teaspoons of vanilla
3 lbs of powdered sugar
18 oz( 1-1/2 small packages) of semi-sweet chocolate chips
6 tablespoons of solid shortening
Directions
Centers
Mix first 4 ingredients by hand to make a smooth dough.Ý (Dough will be stiff).
Shape dough into small balls; place on waxed paper.
Place in refrigerator.
Dipping
In top of double boiler (or a small crock pot), melt chocolate pieces and shortening.
When smooth, use a toothpick to dip each ball about halfway in chocolate.
Store in plastic bag in refrigerator or freezer.
Enjoy!
---
Source is unknown - found in several locations on the internet.
From Brian Tepper of Vallejo, California
Ingredients
For Candie Dough
1 cup peanut butter (we prefer natural peanut butter)
1 cup butter (softened, but not melted)
1 pound confectioner's sugar
2-3 cups rice cereal, such as Rice Crispies (r) crushed to a powder (measure after crushing)
1 cup finely chopped peanuts, unsalted dry roasted.
For Chocolate Dip
1 bag (12 ounces) good quality chocolate chips.
1 teaspoon margarine (oleo).
Directions
Centers
Mix peanut butter, butter and sugar first, to a manageable paste, then add the crushed rice cereal powder and the chopped peanuts. Mixture should stick together, but shouldn't be too sticky.
Roll into 1-inch to 1 1/2-inch balls, much like making a batch of Swedish meatballs. Set aside on waxed paper.
Dipping
Add just a touch of margarine (oleo) no more than a teaspoon.
In a double boiler, melt the chocolate, stirring slowly and evenly until very smooth.
Using toothpicks, dip the peanut butter cookies into the chocolate mixture to about a depth of 3/4, leaving a circle of the peanut butter mixture uncovered. This will make the "buckeye" look. Cool carefully on waxed paper. Store in the refrigerator if chocolate was not tempered, to keep fresh, or store in containers in a single layer.
Enjoy!
---
Source is unknown - found in several locations on the internet.
Ingredients
For Candie Dough
2 sticks melted margarine
1 box confectioners sugar
1 cup peanut butter
1 cup pecans
1 cup crushed graham crackers
For Chocolate Dip
1 bag semi sweet chocolate chips>
1/2 block of paraffin
Directions
Mix above and roll into bite size balls. Dip in chocolate (Melt chocolate chips and parafin in double boiler). Let cool on wax paper.
You can also use white chocolate almond bark which is very good.

You could also use the chocolate blocks (same container as almond bark) and don't the add parafin.
---
Mark your calendar for August 11th through 14th, 2005

This is a dance weekend you don't want to miss!