Meet the Instructors
---
Steve & Kathy Day
Bowling Springs, SC
We are Steve and Kathy and call Boiling Spings South Carolina our home. We met dancing and are still loving it. We have been married for 30 great years.
We are members of The R&B Shag Club, Carolina Shag Club, The competitive Shaggers Association, and The Carolina Shag Team.
We have competed, preformed, and had the pleasure of doing workshops at many different dance events. One of our most exciting and treasurable moments was winning the 1996 Grand National Dance Team Division in Atlanta, GA.
We both enjoy teaching at our local parks and recreation department, the Dance Academy, Spartanburg Technical College, and to anyone else that loves to dance. Our love for dancing has allowed us to help many Charities as well as meet and form great friendships with many wonderful people from all walks of life.
Thanks for letting us be part of your exciting weekend. … Sooooooo – Meet us on the Dance floor.
"JUST GOTTA DANCE!"
---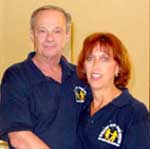 Gary & Charlotte Chaney
St. Louis, MO
Gary and Charlotte Chaney started teaching dance almost as soon as they began dancing themselves.
Teen Town was the place to be in St. Louis in the 1950s, and Gary and Charlotte taught dancing both there and at the first coed physical education class at their high school. Named best dancers in high school, they began winning everything from jelly beans to $1,000 in local dance contests.
Gary and Charlotte have been members of the Southside Imperial Dance Club for 22 years. He is on the board of directors of the American Bop Association and the National Association of Rhythm & Blues Dee Jays.
Gary and Charlotte have competed in swing dancing for years and have received numerous awards and honors, including the American Bop Association Hall of Fame.
Gary and Charlotte both consider their biggest accomplishment the friendships they have made over the years. If you ask Gary what hes gotten from dancing, hell tell you that the dance world has given him much more than he could give back. Through dance at age 15 he met the woman he would marry, whom he describes as the most fantastic person he has ever known.
---
Bob & Beverly Budzynski
Grand Blanc, MI
Bob and Beverly have hosted 28 events in their career, including the prestigious "Michigan Dance Classic."
They are two time recipients of the "Feather Award" for dancing, the equivalent of an "Oscar" for acting. They are past 1st Place winners of the "American Swing Dance Championships" and have placed in the top five of the U.S. Open Swing Dance Championships three times. Recently they were winners at the "World Swing, Salsa, and Hustle Championships" winning 1st Place in all three divisions.
Many of you may have seen them on TNN TV doing guest performances on "Club Dance" but if not, they will perform for you on Saturday evening.
They are delighted to be able to teach for "Beat the Heat" and they thank the Buckeye Bop Club and the Mid-Ohio Boogie Club for the opportunity to be an important part of our most fun event.
---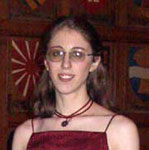 Gen Herres
Columbus, OH
Gen comes to Columbus by way of Rochester and Syracuse, New York. She began dancing 5 years ago and was hooked from the very beginning.
She's taken workshops from Johnny Lloyd & Becky Walters, Swinging Air Force, Minnie's Moochers, and Frankie Manning.
She teaches mostly Lindy Hop and blues where she emphasizes technique, connection and pushing students to the next level with their dancing. She strives to free follows from the mold of just following and really push them to inspire the dance.
---
Aleks Daskalov & Mandy Agler
Columbus, OH
Aleks comes to swing dancing via a lifelong infatuation with music. His yen for lindy hop has taken him as far as Austin, Denver, St. Louis, San Francisco and Washington, D.C. where he has made many lasting friendships.
Aleks primarily teaches lindy hop and blues with an emphasis on communication and improvisation between partners. He is a founding member of a performance troupe in Columbus, but is happiest on the social dance floor where his brightly colored pants and huge smile make him instantly recognizable.
Mandy has been teaching east coast and Lindy Hop for nearly 3 years. She strives to make sure everyone gets the most out of every lesson by keeping dancing fun and laid back with lots of chances to practice all the new moves.
---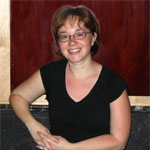 Lonelle Yoder
Columbus, OH
Lonelle took a Lindy Hop class on a whim 4 1/2 years ago, and hasn't stopped since. She is a teacher and performer for Two Tone Swing and a SwingColumbus organizer.
In addition to Lindy, she does Balboa, East Coast and Blues, and a wee little bit of Charleston and Shag.
Her other obsession is theatre; when not dancing, she can usually be found working for either the Phoenix Theatre for Children of BlueForms Theatre Group, both based in Columbus.
---
Neil Coplin
Columbus, OH
Neil has been teaching swing dancing at the Swing Dance Club at Ohio State for the last five years. He is one of the club's founding members and now serves as an advisor. Neil has given swing dancing workshops at universities around Ohio. He is also a member of Two Tone Swing, a group created to help promote dancing in the Columbus Area.
Neil emphasizes a smooth and simple approach to dancing that makes dancing easier to learn. The dances he focuses on are Lindy Hop and Balboa, though also teaches Charleston, East Coast, Blues, and how to transition between any of them. He loves see people learn how to dance and would like you to feel free to ask him questions anytime.
---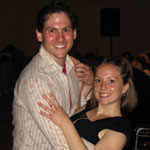 Leonard Goldenstein & Laura Sanker
Columbus, OH
Laura began swing dancing at the young age of 15 as a freshman in high school. She studied under the nationally and world-wide known instructors of Get Hep Swing, a swing dancing company based in Cleveland.
Throughout the past four years Laura has traveled all over the country to dance socially, learn from nationally known instructors, and compete. She has taken lessons with notable instructors including: Kevin St. Laurent and Carla Heiney, Sylvia Sykes, Marty Klempner and Valerie Salstrom, and many others.
At the Great Lakes Swing Championships, Laura won second place in the Balboa division dancing with Marty Klempner. In Addition, Laura has been teaching dance in the Cleveland area with various teachers and companies for the past two years, and even traveled to Virginia Beach to teach a Blues workshop. Balboa and Lindy Hop are two of her favorite dances, and she looks forward to sharing her passion for the dance with others
Leonard is founding member of Dayton's SwingOutDayton. He has been dancing Lindy Hop since 2000. Known for his enthusiasm, skill and communicative teaching approach, Leonard has sought to bring back the energy and spirit of many vernacular jazz dances including Swing, Lindy Hop, Balboa, Charleston, Blues, and Shag.
Impressing peers and students with boundless energy and love for teaching, he has been asked to instruct in at workshops in Illinois, Ohio, Michigan, and Nebraska. Since moving to Columbus he has become active with OSU SwingClub, LindyBus (www.lindybus.com), and is a founding member of Whitey's Hop performance troupe.
---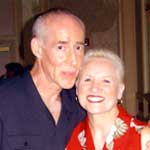 Bob & Gayle Moses
Rockbridge, OH
Bob and Gayle discovered lindy hop shortly after they retired by taking a community class held at Ohio University. They were hooked from the first lesson and have had the great pleasure of traveling all over the country, taking workshops and private lessons from some of the best teachers and dancers in the world.
They have also competed in contests on both the local and national level, and have been surprised and honored to win a few. They love sharing what they've learned and have taught at clubs, studios and universities all around Ohio. They are most happy, however, just dancing with their friends and fellow dance addicts from every corner of the dance world.
---
Mark your calendar for August 11th through 14th, 2005

This is a dance weekend you don't want to miss!