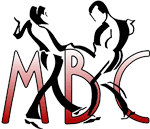 Our events are licensed through American Bop Association
---
The Crystal Ballroom Dance Center
This Thursday, the 13th of December, we are dancing atThe Crystal Ballroom Dance Center
It is located at:
402 East Wilson Bridge Rd
Worthington
Amy Ross has opened her new studio and has invited us to dance our usual Thursday night dance there!
Amy will teach Cha Cha at 7 pm
Sign by the road - turn in here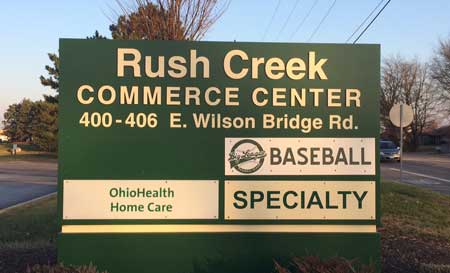 Studio entrance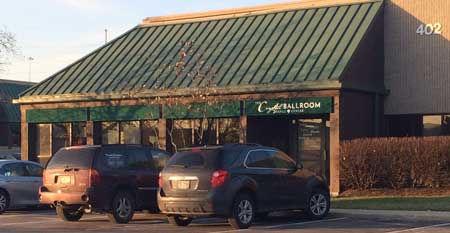 <
Please pass the word to everyone especially those who do not have email.
Thank You, Georgia
The Sound Of the Strand, one of the most listened to internet Shag stations
The station has endorsements from Jackie and Charlie, Chigger Woods, Gary Bass, John Hook, Betty Brown, Too Much Sylvia, Mike Harding, Ken Aikin, among many others.
It is on 24 hours a day without commercials. The station announces many shag events and can be found on Live365 by downloading the FREE app and searching for SHAG or SOS. If you have an Alexa or Google home, simply say "Play Sound Of the Strand on Tune In radio".
The station plays the songs from the Beach and Shag weekly top 40, allowing you to hear the newest songs along with all of your favorites that are played in the clubs. There is a radio show from 7pm until Midnight, Monday thru Friday. The station is asking you to listen in and let them know what you think.
The DJ does not make any money from this station, allowing it to be COMMERCIAL FREE; it's a labor of love. He feels Shaggers have given him so much over the years and wishes to give something back to the Shag world.
Listen now! http://streaming.live365.com/a20149
Find it on facebook or follow it on twitter @soundofstrand
It thanks you for your time. The owners, Dan & Paula hope to see you at the next party.
Junior Shag Dance Team - 2018 Team Champions
Great dancing by the Junior Shag Team at the 2018 Grand Nationals Championships
Music in this video
Song: Try A Little Tenderness
Artist: Otis Redding
Album: Sweet Soul Music (Special Project)
Licensed by: WMG (on behalf of Warner Strategic Marketing GmbH); UMPI, CMRRA, ASCAP, EMI Music Publishing, and 17 Music Rights Societies

---

Song: All She Wants To Do Is Rock
Artist: Wynonie Harris
Album: Blues Roots Of Rock 'n' Roll
Licensed by: INgrooves (on behalf of DM Digital); BMG Rights Management, ASCAP, Exploration Group (Music Publishing), and 2 Music Rights Societies

If the above link does not work – https://youtu.be/9ArAettbVXw?t=13s

Dancing at the Gahanna Moose on Thursday Evenings

MBC is dancing at the Gahanna Moose Lodge on Thursday evenings. You do NOT need to be a member of MBC or the Moose Lodge to dance with us.

---

The Moose Lodge is located at 335 W. Johnstown Rd in Gahanna.

There is a very good dance floor and plenty of seating around the floor. And of course, our deejays will be playing great swing music.

Directions: Use exit 35B from to 270 for US-62 East

At the first light (Stygler Rd) turn right
Turn left onto Johnstown Rd. to enter the driveway of the Moose

Note: Stygler Rd dead ends into Johnstown Rd and the Moose is at the end of Stygler Rd. It only takes about 30 minutes from Hillard or Dublin area. See the map below.

---

MBC Membership Discount

MBC will give you a $10 discount on your renewal or new membership to the Mid-Ohio Boogie Club if you join the Gahanna Moose Lodge 2463, or transfer your Moose membership to Lodge 2463. You can renew within 6 months of purchasing a Moose membership.

---

If you have any questions, give Georgia a call at 614-939-1844 or send me an email: Georgia

A map to our dance location

Gahanna Moose Lodge