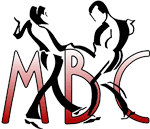 Our events are licensed through American Bop Association
Joining or Renewing Your MBC Membership
MBC membership is only $35 for a full year. If you pay your dues in the middle of April, then your membership is good until the middle of April the following year. The also offers a 6 month membership for $20. You can pay your dues at any club dance or...
You can register on-line and pay for your membership dues using PayPal. However we ask that you pay an extra $1.50 to cover the cost of the PayPal fee. This allows us to offer this service without needing to raise the price of the annual dues.
We thank-you for understanding.
To use PayPal, enter the month and day of your birthday and your email address. Then Click the "Buy Now" button. This will take you to Paypal where you will complete the transaction.
---
---
Print Version of the Membership Application

If you would rather mail an application to us, then download and print this PDF file.