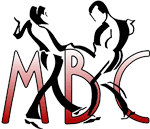 Our events are licensed through American Bop Association
Trying to remember that step?
We have started to add dance steps again. There are 3 new movies from the March lessons available, see below.
This page provides links to our video notebooks of dance steps taught before our regular dances on Wednesday night. If you have a question about a step, feel free to ask the instructor.
Please note: "This feature is only available to members of MBC."
The videos are in QuickTime.

Get QuickTime for Macintosh
Please note
These videos are only meant to jog your memory, not to teach you the step.
Please consider attending a workshop at an event and purchasing of video lessons from the instructors. Click here for some online sources.
Remember to attend Boogie Bash 2016 in August for some really great workshops.
August 2009
East Coast Swing
August 24, 2009
Share a Move
Previous Lessons
Click Here – Carolina Shag
Click Here – Cha Cha
Click Here – East Coast Swing
Click Here – Hustle
Click Here – Lindy
Click Here – Nightclub 2-Step
Click Here – West Coast Swing
SwingJive.co.uk
Here is a source for online dance lessons.
Learn to Swing, Salsa, Ballroom Dance Online. Learn to dance online. Free lessons. Jive moves, salsa steps, and ballroom to latin sequences.
---