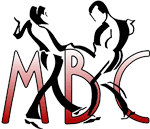 Our events are licensed through American Bop Association
What to Know
Here are some common questions and answers with some tips.
---
MBC is a non-profit organization dedicated to the promotion and preservation of Swing, Jitterbug, and Shag Dancing and to the Rhythm and Blues music that gave these dances their start.

We meets every Wednesday at Bowties which is located within the the Ramada Plaza Hotel at 4900 Sinclair Road (at the corner of the I-71 southbound exit for Morse Road and Sinclair Road)
---
Not at all. At the beginning of our Wednesday night dances, there is a half-hour lesson geared toward beginners. Following that is a second half-hour lesson that that provides more advanced instruction in the same dance.

Lessons rotate between East Coast Swing, West Coast Swing, Shag, and Detroit (slot) Hustle about every six weeks.
---
Our members generally dance one of four types of swing, and some will do Cha-Cha if the music is right.
---
The music played is Rhythm and Blues, Texas Blues, Carolina Beach, Shag and Oldies. MBC does not play Latin, Country, Disco, Big Band, or Funk music except when songs recorded by these types of artists have an R&B sound or rhythm so one can dance swing.
---
No. During lessons everyone dances with everyone. We rotate partners frequently. During social dancing, most dancers will dance with a variety of people. As a matter of fact, it is uncommon to have consecutive dances with the same partner.
---
Yes! It's expected. The atmosphere is very friendly at our events and it is quite acceptable and common for women to ask men if they would like to dance. We are all there to have fun dancing and most men enjoy being asked to dance.

Dance Etiquette Note: It is customary to accept any request to dance!
---
You must be of legal drinking age as determined by Ohio State Law since we often dance in an environment where alcohol is present. This is required by the State and our By-laws. Dancers range from early twenties to grandparents. Specific make-up varies each week, but most are in their late thirties to early fifties.
---
Dress is casual. Some women wear pants, others wear skirts, but whichever, it's definitely casual and comfortable. We suggest comfortable shoes that do not grip the floor, allowing for easy turns while dancing. Non-marking shoes will protect the wood floor.
---
Members enter free. Admission for non members is $5.
---
Membership is $35 per year.
---
Memberships are valid for one year.
---
Members may attend the weekly dance lessons and subsequent open dancing free. Members receive a newsletter advising them of upcoming events and other dance news. Members also receive discounted rates for any workshops or dances the Club sponsors. We also have a mini-party about once a quarter with food that is free to members.
---