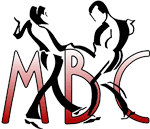 Our events are licensed through American Bop Association
---
What to learn a new step?
Consider attending a workshop at an event, such as Boogie Bash in August with some really great workshops, and the purchase of instructional videos from the instructors to help you improve your style and technique, whether your a beginner, intermediate or advanced dancer.
The following are some online sources for video lessons.
---
To learn more about an offer, Click on the heading. It is a link to their site.
---
Carolina Shag
Imperial Swing
Imperial Swing Dancing Manual with DVD

This manual comes with a two-hour DVD with Matt Auclair's two-hour dance course. The manual is the culmination of six years of work.
It has been very well received by the members of the seven different swing dance clubs in the St. Louis area. The cost is $59.95 plus $8.50 shipping.
Ready to order, click here for a PDF flyer and order form. (336k)
West Coast Swing
Mario Robau Jr's Dance Factory

Finally this best selling instructional series is available on line!!
Six levels of West Coast Swing and Two levels of hustle with more on the way.
Having a hard time meeting up with Mario on the road?? Here is your chance to get Mario on your laptop with fresh material every week, available by the lesson or by the month. He offer a package deal with not only 4 weekly lessons, but also three warm-ups, technique tips for leaders and followers AND an online monthly chat with Mario to answer all your dancing questions.
Other Sources
iDance – There is $5.00 fee to join and then it's $.99 to $1.49 per instructional clip. You can download the video clips onto your hard drive with no strings attached. iDance.net is a small business with a portion of the money going to the teachers that you love and admire. They have worked very hard to bring you access to moves from instructors from all over the world and they ask that you please pay for this unique opportunity instead of stealing it. The instructional video clips include the following dance moves.

20s Partner Charleston
30s Partner Charleston
Bal Swing
Balboa
Cake Walk
Collegiate Shag
Jitterbug
Lindy Hop
Music
Salsa
Street
Tap
Vernacular Jazz
West Coast