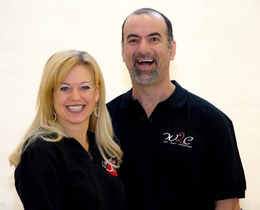 Mario Robau Jr & Stephanie McPherson-Robau
Houston, Texas
West Coast Swing &
Country Two-Step
Mario "Swing Daddy" Robau started dancing at the age of sixteen. He won the Southwest Regional title for the first time at the age of seventeen and began teaching professionally in 1986. Mario's competitive credentials include: 2 time U.S. Open Classic swing dance champion; U.S. Open Team champion and co-choreographer; 10 time Dallas Dance champion; 6 time Southwest Regional champion; 10 time Texas State champion; 10+ City Houston championships; undefeated slow whip champion; 4-time Grand National champion; 2 time Phoenix Jack and Jill champion; Dallas Dance Hall of Fame; youngest person inducted into Swing Dance Hall of Fame.
Stephanie McPherson-Robau is a 4 time UCWDC World Champion, with two of those titles in the Master's Division. In addition, she has helped her students win over 10 UCWDC World Championships in their respective Pro-Am Divisions. She is known for her incredible technique and precision, as well as presentation and has over 20 years experience in Country & Western, Ballroom, Latin, and Swing. Stephanie retired from competitive dancing due to injury which led her to her new career as a Doctor of Traditional Chinese Medicine and Acupuncture. Stephanie is originally from Calgary, but now resides in Houston with the best husband ever (so he says), Mario Robau
---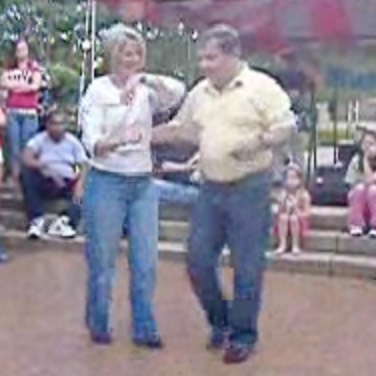 Steve & Kathy Day
Bowling Springs, SC
Carolina Shag
We are Steve and Kathy and call Boiling Spings South Carolina our home. We met dancing and are still loving it. We have been married for 44 great years.
We started Shaggin in 1994 with the Carolina Shag Team are members of The R&B Shag Club, Carolina Shag Club, The competitive Shaggers Association.
We have competed, preformed, and had the pleasure of doing workshops at many different dance events. One of our most exciting and treasurable moments was winning the 1996 Grand National Dance Team Division in Atlanta, GA.
We both enjoy teaching at our local parks and recreation department, the Dance Academy, Spartanburg Technical College, and to anyone else that loves to dance. We have taught workshops from Tampa to Chicago as well as on the ABA dance cruises. Our love for dancing has allowed us to help many Charities as well as meet and form great friendships with many wonderful people from all walks of life.
We are members of:
National Living Legends,
ABA Hall of fame,
R&B Hall of fame, (our home club),
Tom Armstrong Hall of Fame,
Cincinnati Bop club.
We've have danced competitively with The competitive Shag Association, the Carolina Shag Team,and the at the National Shag dance in Myrtle Beach.
We have done a lot of dancing and have MANY WONDERFUL Friends.
We are truly blessed.
Thanks for letting us be part of your exciting weekend. … Sooooooo –
"Meet us on the Dance floor."
"JUST GOTTA DANCE!"
---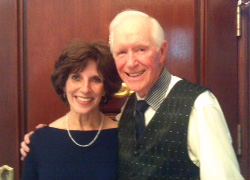 Bob Budzynski & Debbie White
Grand Blanc, MI
Hustle
Bob & Beverly have hosted 28 events in their career, including the prestigious "Michigan Dance Classic."
They are two time recipients of the "Feather Award" for dancing, the equivalent of an "Oscar" for acting. They are past 1st Place winners of the "American Swing Dance Championships" and have placed in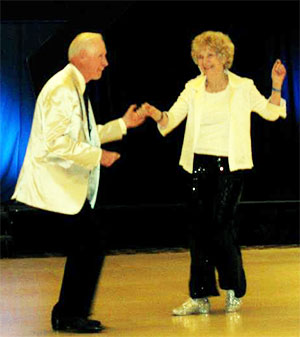 the top five of the U.S. Open Swing Dance Championships three times. Not to long ago, they were winners at the "World Swing, Salsa, and Hustle Championships" winning 1st Place in all three divisions.
Bob & Beverly have supported dancing in many different ways. For example they are sponsors of the "Masters Tour" and provide $300.00 at 12 designated events and $7600.00 split among the top 4 couples in the point standings at the U. S. Open.
Bob has instructed at the "Mid-Ohio Boogie Bash" the last couple of years with his student, Debbie White. She is an excellant dancer in her own right. According to Bob, Debbie has danced 11 times in the competition and place first 11 times. Bob and Debbie have competed together as well at major dance competitions.
They are delighted to be able to teach for "Mid-Ohio Boogie Bash" and they thank the Mid-Ohio Boogie Club for the opportunity to be an important part of our most fun event.
---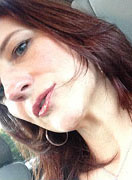 Joyce Stoughton-Kim
East Lansing, Michigan
Cha-Cha
Joyce became certified as a ballroom and Latin dance instructor in 1987. During her career, Joyce won numerous awards and enjoyed many performances, among the most memorable are her wins as the 5-time Michigan Swing Champion, 5-time Michigan Hustle Champion, Hustle USA Champion, finalist at the American Swing Dance Championships, Northcoast Ballroom Classic and Detroit International Star Ball Lambada champion and cabaret finalist, featured performer at the Feather Awards in Beverly Hills, California, performed in the USSR ballroom dance tour in 1989, featured in commercials for NBC affiliate, and in 1997, Joyce was inducted to the Michigan Swing Dance Hall of Fame and the National Hustle Hall of Fame.
To compliment her career as a dancer, Joyce went on to attend the University of Michigan, Ann Arbor, where she graduated with honors and wrote The Detroit Hustle, a manual defining the Detroit Hustle while sharing its unique history through dance and verse.
The Dance Project syllabus provided inspiration for her new venture as founder of the Social Dance Project, a youth outreach program that ties social dance to schools curriculum. The Social Dance Project is based out of her studio, the Center for Social Dance located in Okemos, Michigan.
---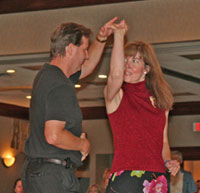 Don and Jennifer Ewell
Columbus, Ohio
East Coast Swing &
Night Club Two Step
Don and Jennifer have been members of the dance community for several years. Don's passion to dance prompted him to learn all that he could as soon as he could.
His passion led to teaching others what he knew. Jennifer joined him after their marriage. They are well known in the Columbus area for their ability to impart their expertise to their students.
---
Mark your calendar for Augist 9th through August 11th, 2018
This is one dance weekend you don't want to miss!