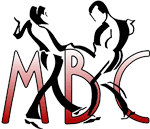 Our events are licensed through American Bop Association
Our Dance Instructors
'Shaggin' making its way to local dance floors
by Julie Perine
LIFESTYLES EDITOR
CLARKSBURG — It began on the shores of Carolina and has made its way up and down the coast.
Shag dancing — or shaggin' as it is often called – is a mix of beach music, jitterbug-like moves and a socially good time.
"It's smooth and stylish and easy to learn once you get the basic steps," said Morgantown's Bill Pell.
The dance form's six steps, as opposed to the jitterbug's four, are done in a "slot," practically place.
"It's not like swing when you're all over the dance floor," said Cynthia Ritch, president of "Shaggin' with Class," the newly formed Carolina shag dance club. "It evolved because so many people were jitter bugging and there wasn't enough room on the dance floor."
Men, generally wearing wide, flashy pants and leather-bottom shoes, are the dance's featured gender.
"It's a show-off dance for the man," Ritch said. "He's out there doing his tricks and you see some fantastic moves."
Among those moves, according to Pell, are the pivot, the belly roll, the sugar foot, the boogie walk and the funky apple jack.
There's lead mode, when the man freestyles, directing his partner, Pell said.
In mirror mode, the male and female basically do the same steps simultaneously, he said.
Regardless, the female wears suede-bottom shoes for their gliding ease.
Shaggin' has drawn dancers, ranging in age from teens to senior citizens.
What's the attraction?
"The atmosphere is really great," Ritch said. "Shag is the type of dance that everybody and anybody can do. Men can ask women and women can ask men. We all switch partners and it's such a social dance."
It's a way to meet people and a venue for traveling, exploring the many shag events held throughout the country, Ritch said.
She was introduced to the dance form during a visit to "Shaggin' on the Strand," held in Myrtle Beach, S.C.
"The two big parties in Myrtle Beach are the spring safari and the fall migration," said Ritch, adding that the celebrations pop up everywhere, including some within the state.
Among local shaggers is disc jockey, Ed Morrison. Shaggin' is a pretty fun activity, he said. But being a music man, he loves the multi-genre tunes too.
"It's a variety of music that's based on 120 beats a minute," he said. 'It's not all country, but there are some country songs. And it's not all rock, but there is some rock and roll. It can he anything from Percy Sledge to Carlos Santana."
According to Morrison, the hot shag dance song is 'My Big Sister's Radio."
And whether dancers are listening to, the radio, the CD player or a live band, they're into their shagging.
"It's about people getting together and having fun," Morrison said. " It' a social club more than anything else.
Shaggin' With Class meets at the Clarksburg Elks at Village Square Conference Center twice monthly through the summer.
Sessions are planned for June 30, July 14, July 28, Aug 11, and Aug 25.
Dance lessons at 7 p.m. will be followed by open dancing at 8 p.m.
For more information call Ritch at 677-8374 or Pattee Perkins at (304) 685-3694.
Lifestyles Editor Julie Perine can be reached at 626-1439 or bye-mail at jperine@exponent¬telegram.com
---